Manufacturer of Custom Printed Labels, Die Cuts and Distributors of Industrial Products since 1967
Products
Industrial Adhesives
Spray Adhesives
Hot Melt Adhesives
Hot Melt Adhesive Applicators
5-Way Penetrant
Shop Industrial Adhesives Online →
Industrial Abrasives
Abrasive Tools
Abrasive Discs
Abrasive Wheels
Abrasive Accessories
Shop Industrial Abrasives Online →
Tapes
Masking Tape
Box Sealing Tape
Painters Tape
Performance Masking Tape
Shop Tapes Online →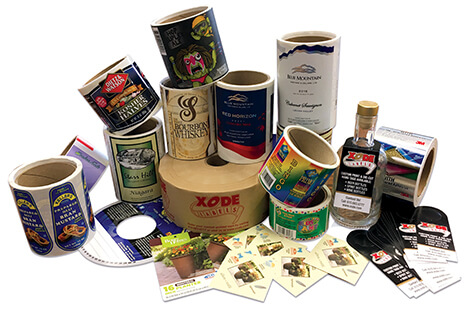 Xode is a label printer with a wide range of multi-color printing capabilities, including 4-color process. With the latest narrow-web-press and digital equipment and more than 50 years of experience, Xode can consistently and economically deliver superior quality pressure sensitive labels and tags of all types.
Maybe you were not looking for labels and found us through a search for Abrasives, Tape, or Adhesives. Xode is a distributor of numerous 3M Industrial Products from several different divisions of the 3M Company. To complement our distribution business, Xode offers die cutting and converting capabilities as well. These capabilities allow Xode to add liners, laminate differing substrates, die cut and slit these products into various shapes and sizes. We are willing to look at your applications in order to provide you with the best solution.
Ask a 3M Certified Specialist - Xode has specialists standing by to answer your technical questions. Call us at 1-800-772-9633 or [javascript protected email address] to ask a question.
Xode Label Technology
Your products look their best with labels printed by Xode. Our state-of-the-art label manufacturing technology covers every custom label requirement -- from multicolor processing to laminating and UV varnishing. Xode's professional graphic services will translate your basic requirements into distinctive eye-catching product branding identification. Purchase your labels from Xode for superior quality and fast turn around, backed by 50 years of experience.
Request a Custom Label Quote
Printing and Converting Capabilities
Overlaminations
Die Cutting
Liner Printing
UV Printing
Pinfeeding
Sheeting
Fan Folding
UV Varnishing
Printing Materials
Paper
Polyester
Coupon Stock
Tag Stock
Foil
Polyethylene
Vinyls
Static Cling
Can't find what you're looking for?
Call Us at 1-800-772-9633 or email us at

[javascript protected email address]
We are happy to help!